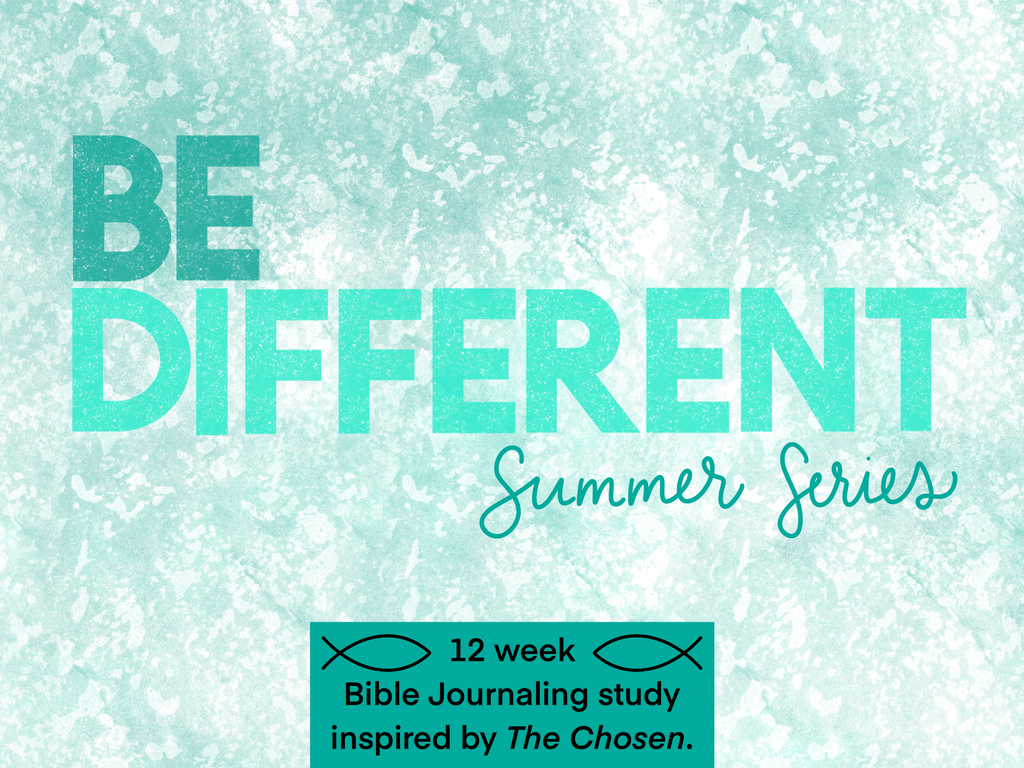 "Be Different" Summer Study 2023
"Be Different" Summer Study
Spend the summer in the WORD as we Bible journal passages inspired by The Chosen TV series. We'll focus on what Jesus says about being different FOR Him. This 12 week series begins on Tuesday, May 30th with a kick-off session to share all the details.
There are four components to this study. Feel free to participate in all or just a few of the options!
Four Components of the "Be Different" Summer Study: 


1. WEEKLY WORD:

     -In-depth Bible journaling sessions Tuesdays at 8pm eastern
     -We'll gather on ZOOM (and will be streamed to Facebook)
     -We will discuss our takeaways from The Chosen episode.
     -I'll share helpful tools and products to use in the margin. 
     -Weekly giveaways too!!!!! 

2. DAILY DIFFERENT:
     -Daily Scripture writing plan for each day between May 30-Aug 29
     -Amber will provide a passage for every day that is referenced in the episode.
     -Pick up Amber's Blessings Journal to use for this! Click
HERE
to add to cart. 
3. LIVE DIFFERENT CHALLENGE:
      -Meets Tuesdays at 7:30pm via Zoom before our Bible journaling session.
      -We will create weekly goals to help us live different in 3 areas: mind, body, and spirit.
      -We'll come together to share our wins, pray for one another, and get intentional with the next 7 days. We'll break down our goals into small manageable habits!

4. CHOSEN CHANNEL:
     -Watch The Chosen via our weekly schedule and share your takeaways in our FB page. We'll be focused on season 1 and 2 of The Chosen. You can watch it for          free on the Angel app.
WHAT IS INCLUDED
-Access to the private Facebook page
-12 Zoom Bible Journaling Sessions that will be streamed to private Facebook group on Tuesday nights at 8pm eastern
-12 Zoom chats on goal setting to "live different"
-Intro session on Tuesday, May 30th at 8pm
-Bible Journaling Digital Printables (20 full pages)
-Daily Scripture writing plan
WHAT YOU WILL NEED:
-Access to Facebook
-Access to Zoom
-Inspire Bible or journaling Bible (we'll be all over the full Bible, so an Inspire portions won't work for this study)
-Blessings Journal (If you want to do the daily writing)
-Printer for printables (or access to print at local print shop)
PLEASE READ
-Make sure I have your correct email address in the order.
-Access to the private FB page, study details, and printables will be emailed on or before May 30th or within 24 hours of ordering after the 30th. 
"Be Different" The Chosen Summer Study

 

Schedule:
Tuesday, May 30th: Kickoff Session
Tuesday, June 6: Season 1 Episode 1 and 2
Tuesday, June 13: Season 1 Episode 3
Tuesday, June 20: Season 1 Episode 4
Tuesday, June 27: Season 1 Episode 5
Wednesday, July 5: Season 1 Episode 6
Tuesday, July 11: Season 1 Episode 7 and 8
Tuesday, July 18: Season 2 Episodes 1 and 2
Tuesday, July 25th (off)
Tuesday, August 1: Season 2 Episode 3
Tuesday, August 8: Season 2 Episode 4 and 5
Tuesday, August 15: Season 2 Episode 6
Tuesday, August 22: Season 2 Episode 7 and 8
Tuesday, August 29: Review
Note: this is a DIGITAL kit. No physical kit will be shipped. Printables will be available upon order. 
Because of the nature of this digital study no refunds will be given.
Artwork and videos are for personal use only. Please do not share digital files. Not for resale, edit, or general distribution. 
---
Share this Product
---
More from this collection