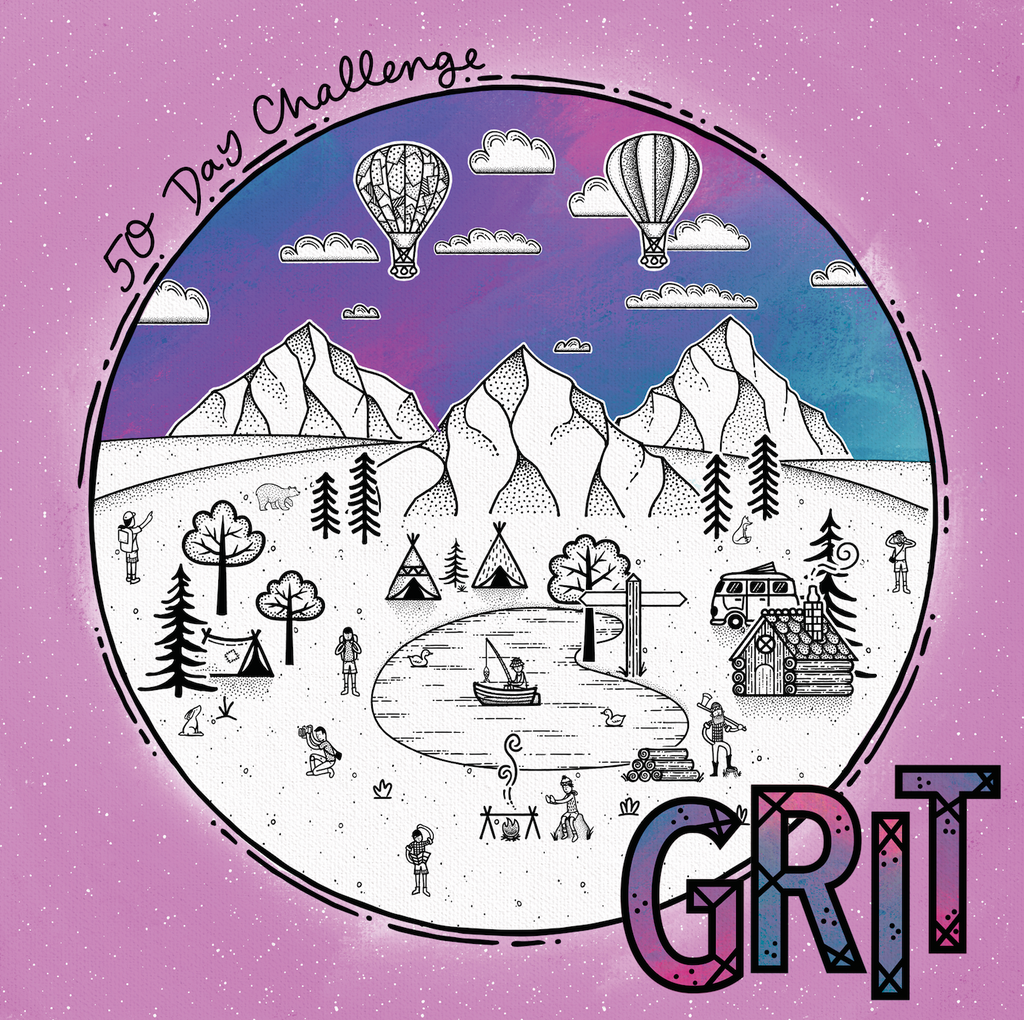 GRIT Challenge
Is this you? 

You may have great motivation but no accountability. 
You may be inspired but quickly lose desire. 
You choose comfort over consistency. 
You say you'll try again tomorrow. 
You know what you want but don't know how to get there. 
You've tried a million times and can't get past a certain point. 
You are sick of doing this alone. 
You have passion but want purpose. 

If you resonate with one or more of these statements,
the Grit Challenge is for you. 

We'll spend 7 weeks (50 days) between April 10-May 29th working on building daily habits that add up to reaching our goals. We'll focus on mind, body, and spirit as we create attainable goals through daily inspiration, weekly Zoom calls, and personalized mentoring. 

Imagine if we are going on a hike together. What would we need? 
-A guide
-A destination 
-A few fellow travelers on the same path. 
I'm Amber and I'll be your trail guide! We will develop a destination together (your own personal goals) and you'll get to be encouraged and sharpened by others who are on the same trail. 

So, lace up your boots and let's do this together! Here's the details. 

When: 
-We begin Monday, April 10th! Get signed up soon!!!! 
-Our final Zoom will be Monday, May 29th. 
What: 
-The purpose of the GRIT Challenge is to help you Get Really Intentional Today with your goals. We'll create crystal clear action steps for mind, body, and soul goals that will keep us focused for 50 days. It will not take 24-7 (who has that kind of time anyway) but we'll break down the goals into manageable daily tasks that fit your life. Amber will focus heavily on honoring God with these three areas as we make the most of every day! 
How: 
-Pre-Challenge: 

      -Meet with Amber via Zoom to develop your goals. 
     -Complete the worksheet to help you pinpoint attainable goals.
-Daily:

 
     -5 minute FB Live by Amber to share a GRIT principle
     -Accountability post for you to share how we can support you today
-Weekly:

 
     -Group Zoom on Monday nights at 8pm to discuss goals, create momentum,         and
sharpen/encourage one another.
     -Individual FB messenger check in with Amber
     -Personal Zoom with Amber if needed.
-Closing:

 
     -We will have a celebration Zoom meeting on Monday, May 29th at 8pm to.         thank God for all He has done in this season.
What is required from you?

 
-Meet with Amber via Zoom to discuss goals.
-Watch the 5 minute daily video via private FB page
-Attend Zooms live or watch the replay
-Participate in accountability posts/encouragement of other "trail walkers."
What will Amber provide?
-I will be your guide giving you daily meaningful personal development that includes excerpts from books, the Bible, and personal stories. 
-I will help you get clarity on your goals and sharpen you to grow in these areas.
-Amber is not a liscensed therapist. Amber's guidance does not take the place of a counselor, pastor, or doctor. She is a guide with years of ministry experience, mentoring both youth and adults, as well as a certified health coach. 

Cost:
$49 (FREE for all of my current Optavia clients. message me for code). 
     -Includes: 
           -Iv1 coaching with Amber 
          -Access to the private FB page
          -GRIT Challenge worksheet 
          -Weekly accountability and growth. 
Next Steps: 
     -Sign up here on my website and you'll get an immediate download of the.           Grit Worksheet with details on next steps! 

Note: My current 1v1 coaching for clients is between $350-450 a month (as a health coach). $49 is an amazing deal for 7 weeks of coaching. Due to the nature of this service, no refunds will be given. 

---
Share this Product
---
More from this collection