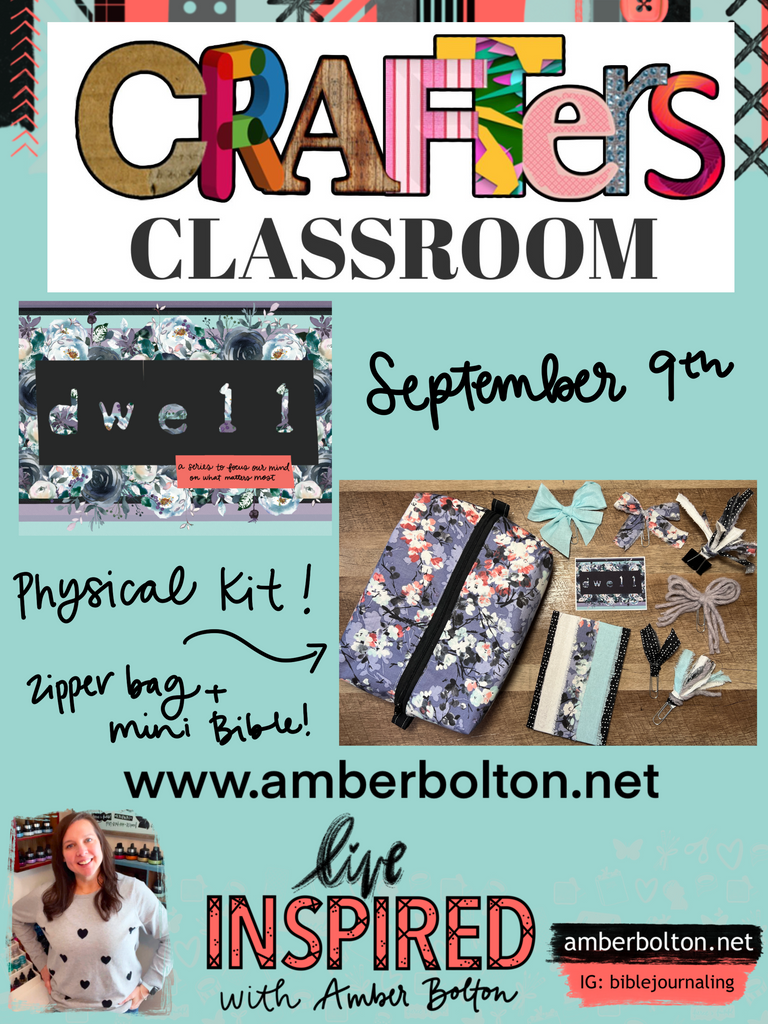 Crafters Classroom: "Dwell" September 2023
Crafters Classroom "Dwell" September 2023
Our September Crafters Classroom will be focused on the theme of "Dwell." To dwell is to think, abide, and pause in God's word. We'll dwell in Luke 10 as we create in the margin. This class will be a fun one where we learn how to use fabric to cover a mini BIble. See below for details! 
This is a physical class kit to use in the class. 

This class kit includes: 
-Handmade Zipper Bag
-Mini New Testament Bible 
-Fabric for cover
-Mini printables 
-Regular size printables
-Fabric prints (to use on cover)
-Binder clip
-Five Fabric clippies
-Digital printables (sent via email)
-Inserts for front and back of mini Bible with additional passages
**Kit does NOT include fabric glue or fabric tape to be used for the mini Bible.
**This purchase does NOT include the "Dwell" September Study additional classes. To purchase the Crafters Classroom plus September study click HERE. 
During Class: 
Amber will instruct how to cover Bible and make clippies and binder clip. We will also process Luke 10:25-28 and create in the margin using the mini printables. Amber will also show how to create in the margin of a regular sized Inspire Bible as well.

Class will be held on Saturday, September 9th (Time TBD)

Kit will be shipped by September 1st or within 24 hours of ordering after. Order by September 1st to guarantee delivery by September 9th. 
Join us on the Crafters Classroom Facebook Page:  https://www.facebook.com/groups/514442230082284
---
Share this Product
---
More from this collection